From the Director
Atmosphere and Oceans Research Institute: Future Prospects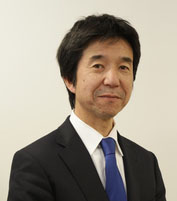 To provide a scientific foundation for future society and a sustainable global environment, the Atmosphere and Ocean Research Institute (AORI) aims to clarify the complex mechanisms of the oceans, atmosphere, and living organisms nurtured in these spheres as well as their evolution and variations. In addition, as the Joint Usage/Research Center for Atmosphere and Ocean Science, we collaborate with researchers at home and abroad using our research vessels, Hakuho Maru and Shinsei Maru , our onshore research facilities at the Kashiwa campus and the Otsuchi campus in Iwate Prefecture, and numerical climate models. We also train researchers to lead the next generation of atmospheric and oceanic sciences. We strive to nurture talented professionals with international character and a pioneering spirit who are equipped with expert knowledge, comprehensive analytical skills, insight, practical strengths, and imagination.
Research and smart management of oceans are essential to the future society.This is especially important for Japan, which is surrounded by oceans. Japan has a long history of usage of marine resources as food and currently has the sixth largest marine area in the world upon considering territorial waters and its exclusive economic zones. At AORI, researchers from various disciplines, including physics, chemistry, ocean floor science, biology, and fishery science, collaborate to perform comprehensive studies on the oceans and the climate, which are scientifically and socially important topics.
AORI was established by a merger of the Ocean Research Institute, which was located at the Nakano campus, and the Center of Climate System Research in 2010. This merger has resulted in developing many synergistic approaches. In April 2014, we established the Analytical Center for Environmental Study. Today AORI is a global frontrunner in this area, and our researchers are consistently producing outstanding results.
On the other hand, AORI has some physical issues that need to be resolved. For example, we are making strides to restore the International Coastal Research Center (ICRC) in the town of Otsuchi, Iwate Prefecture on the Pacific Coast, which suffered catastrophic damage in 2011 due to the 2011 off the Pacific coast of Tohoku Earthquake and tsunami, with the support from the university headquarters and the Ministry of Education, Culture, Sports, Science and Technology of Japan. We have to reconstruct a laboratory building and related facilities. Currently, we are enhancing joint usage/research on the effects of the tsunami on different ecosystems and the restoration processes. Another issue is that R.V. Hakuho Maru , which is a national flagship research vessel, is now 25 years old and we are preparing to replace her.
AORI continues to lead the world in cutting-edge research in atmospheric and ocean sciences. We are committed to education and joint usage/research activities, and thank you for your continued support in these endeavors.
Director of AORI TSUDA, Atsushi